How can enterprises use EO.workspace to enable cost reduction strategies?
Do virtual applications and desktops reduce cost? This is a question we hear a lot from companies, as a result from bad experiences with other solutions in the past.
The answer is: Yes, EO.workspace can enable cost reduction strategies, where many times other virtual desktop solutions can't. This happens not only because of the underlying technology, but also due to missteps in sales process and project scope, misreading the customer's environment and needs. Studies show that cost reduction is one of the top three reasons why enterprises consider virtualization, but it is also one of the top three reasons why they give up.
Virtual applications and desktops can be a successful tool for cost reduction when a project is well scoped, well planned, and executed with the right technology.
When leveraging all these factors, companies can enable better cost reduction strategies with our solution than from our competitors. Using EO.workspace, our customers benefit from reduced Hardware, Support & Helpdesk and Licensing costs.
The graph below exemplifies the difference between the cost of ownership of a traditional desktop, virtual applications & desktops competitors solution and EO.workspace. Looking into hardware, support & helpdesk and licensing (not considering the licensing for the virtual application and desktop solution), we can see that virtual application & desktops enable a 31% reduction in relation to a traditional desktop,while EO.workspace enable a 63% cost reduction, going even further.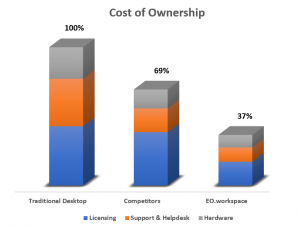 Hardware
One of the most tangible effects from EO.workspace implementation is that enterprises can decrease the hardware total cost of ownership (TCO) by more than half.
First, by using virtual applications and desktops, enterprises can reuse old hardware, increasing PC life cycle. Regular PC life cycle is between 3 to 5 years; with EO.workspace, computers can easily keep running for more than 10 years. One of our clients, with a call center operation, managed to reduce the time it took employees to start working from 4 minutes to less than 30 seconds, while keeping their 6 years old computers. This was possible by reusing this hardware to provide access to the virtualized applications. With more than one thousand employees, the customer saved a huge amount of money and time. Therefore, they not only increased PC life cycle, but also increased employee efficiency through better use of their existing hardware.
Many of our clients use Chromebook or even Raspberry Pi to access their applications and desktops via EO.workspace, without impacting user experience
Second, since all applications run on a remote virtual environment, cheaper devices can deliver access without loss of quality or performance (even enhancing it). Computing capacity of these devices is no longer critical, because users are working in applications running on a remote virtual environment. Many of our clients use Chromebook or even Raspberry Pi to access their applications and desktops via EO.workspace, without impacting user experience.
Support & Helpdesk
Not many companies realize a virtual application and desktop solution has a profound impact on IT departments work load.
Typically seen as a less relevant outcome, the fact is that support & helpdesk teams experience a 70% decrease in requests (such as printing setups, backups, Antivirus, Office versions and integration, etc.). This happens because it's easier to manage a single, contained, well defined environment that every user accesses, than a different device for every user.
In addition, data, settings and applications aren't on the user's device, but on EO.workspace servers (on premises, cloud or hybrid: you choose). Therefore, applications access and permissions are much easier to manage by IT departments. This frees IT departments to actually focus on critical projects.
Licensing
EO.workspace delivers Windows and Linux applications to end users in the same integrated environment. By doing this, enterprises can better manage licensing, profiling users with the necessary applications for each role independently from operating systems.
One of our clients uses EO.workspace to leverage the best approach for this seamless Windows & Linux world: SAP users were divided in groups according to their use and needs, with some having access only to SAP GUI for Java in Linux, reserving SAP Windows Client for power users. The customer decreased their licensing costs by more than half.
Does every user need to have access to every application?  Do you know that many enterprises don't have control over licensing at every level, and don't know how much they are spending on it? We often discover a waste of money on non-necessary licenses that companies are paying because the lack of visibility and application delivery flexibility. Licensing cost reduction can be achieved by analyzing how and where money is being spend, and what applications users really need, in order to better manage it.
---
The overall conclusion is that virtual applications and desktops can really help reduce cost, specially with the right solution and planning. When a solution can't, it's because it might have the wrong technology, hidden costs from optimistic or misguided sales process, improper project planning and infrastructure management, and so on. That's why many companies still have doubts.
Furthermore, EO.workspace architecture TCO is proven to be less than half of our direct competitors, having in consideration the product licensing, infrastructure, OPEX, CAPEX, etc.
Reach us if you need help understanding how cost reduction is really possible with virtual applications and desktops, specially with a EO.workspace solution.