Ensure user agility and performance across virtual desktops, applications and online services through a single digital workspace. Anytime, anywhere, anyhow.
Virtual Applications & Desktop
EO.workspace infrastructure is more efficient than traditional VDI solutions. In a single workspace we integrate multiple platforms, allowing access to apps and desktops from any device, anytime, anywhere.
Cross Platform & Cross Generation
Deliver desktops and applications from multiple Windows and Linux versions. Maximize performance and guarantee accessibility from any devices while optimizing your IT, licensing cost and legacy application support.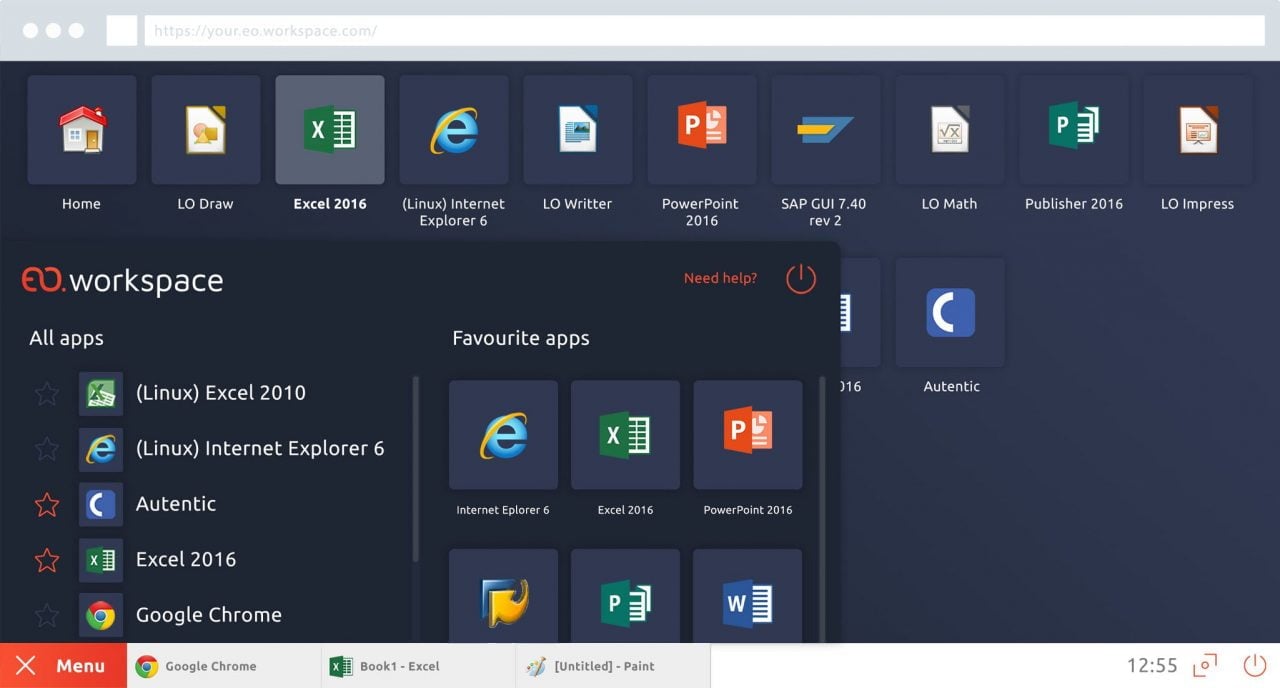 Legacy (Web) Application Support
Ensure full Application compatibility and certification independently of end-user execution environment.
Business Ecosystem
Empower your ecosystem/value chain partners with key business Applications.
Licensing Cost Reduction
Segregate Windows users, deliver open source productivity apps, ensure maximum flexibility and agility.
Mobility
Instantly bring all your Applications to all relevant mobile platforms without (re)development effort.
Flexibility
Make Microsoft Office available to everyone that needs it in the same integrated, open and convergent Desktop.
Security & Control
Ensure access to your applications from any modern device while
enforcing company security rules and compliance policies.

Privilege Minimization: Applications are run with minimum privileges, reducing or eliminating attack surface.
Consolidation and Optimization: Thousands of users can be served from a small number of servers, enabling the implementation of faster, cheaper and more manageable defensive strategies.
Data Isolation and Protection: Applications and data are handled in different execution planes which makes malicious appropriation exponentially harder.
With the advancement of data protection regulations, such as European GDPR, Brazilian LGPD, the Australian Privacy Act and the Federal Trade Commission policies in US, enterprises need to look for a solution that enhances compliance strategies for data control and protection.
EO.workspace support compliance strategies, helping enterprises on implementing tools and management for data regulations compliance.
Deployment Flexibility: Hosted where you want it, be it premises, cloud or hybrid.
Complete Visibility: Centralized dashboard with granular administrative delegation,
real-time and historical reports (Users, Sessions And Applications) and software licensing reporting.
Data Protection: Data and documents remain securely in the organization's servers, enabling
backup and preservation strategies.
Secure Access: Integrated cryptographic SSL VPN for application access.
Comprehensive Authorization: Map & connect to existing directories (LDAP/AD)
with rich user access control management (printers, drives, etc.).
Advanced Authentication: Single Sign On, multiple-factor and SAML support.
Flexible Support: Ranging from 8/5 with a specific number of incidents to 24/7, all included with 20 minutes emergency response times, all your enterprise support needs are covered.
Software Distribution: Continuous access to binary software packages. These includes new platform release, features and minor version updates as well as maintenance and security releases.
Enterprise Life Cycle: Generous 5-year life cycle for all Product major versions, corresponding to a 3-year General Availability phase and a 2-year optional Extended Availability phase.
Flexible & Open
Even the best solution is only as good as its ability to meet the specific needs of your business. Our modular and agile solution adapts to your structure and rules and can be extended with branding and tailored development.
Modular
Several modules (Web, Linux, Windows, etc). Use what you need.
Open
Built using mature and enterprise grade Open Technologies.
Branded & Tailored
Create more value by branding and tailoring it to your  every need.
Architecture
Discover more about our secure, redundant an scalable architecture.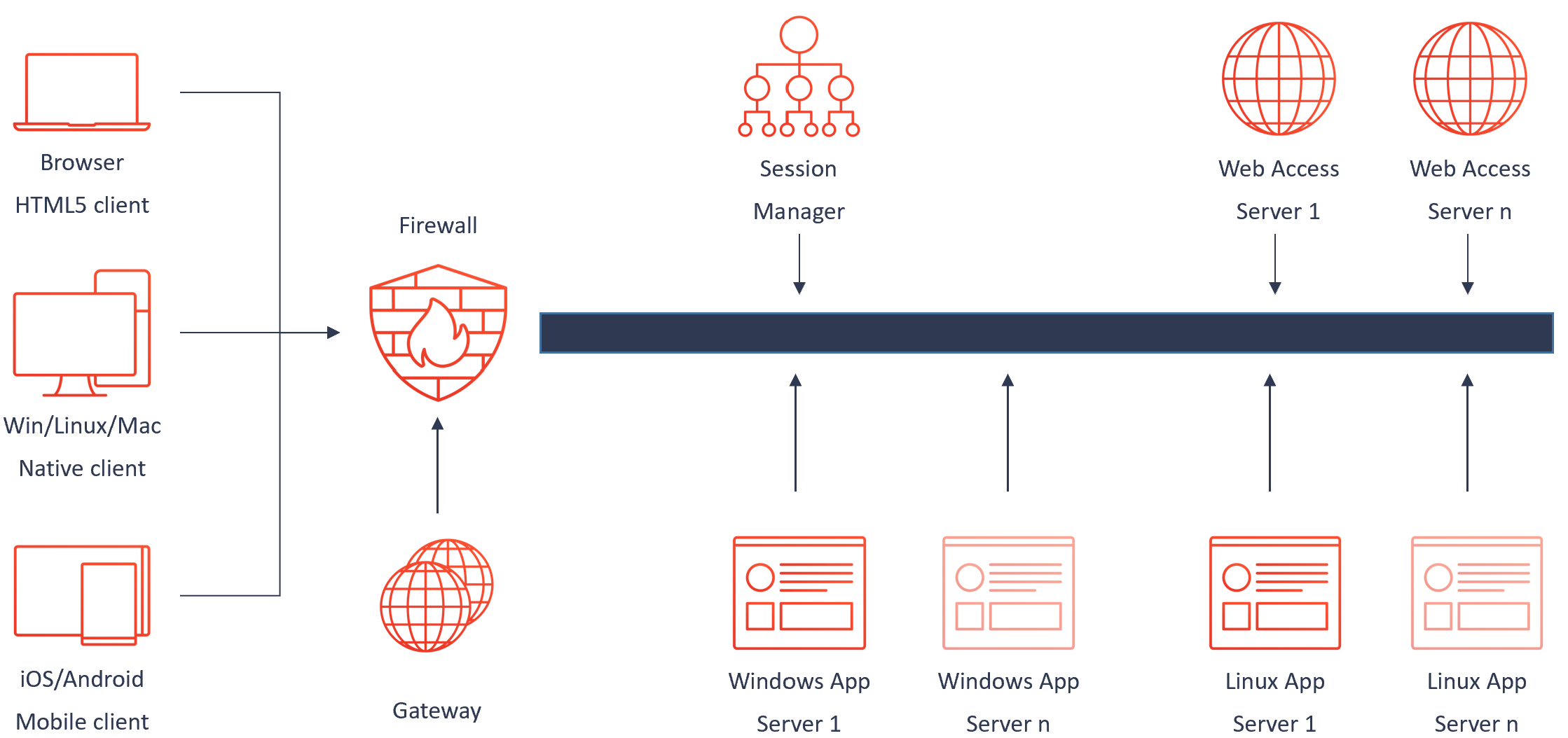 Mobile Clients
EO.workspace supports native application on modern mobile platforms like Android and IOS, just install from the respective App Stores. This means you can expect performance and a great user experience when accessing your applications from your mobile device and tablet.
Gateway
The EO.workspace Gateway facilitates the usage of the platform by remote users, from outside the organization. Regardless of which client is used to access the platform, when using the Gateway, it's only necessary to open a single port on the external organization's firewall. When a user connects to a Gateway server, all the traffic, regardless of type, is encapsulated in an HTTP over TLS connection.
Session Manager
The Session Manager is the central component of an EO.workspace landscape, and a mandatory part of the architecture. It's responsible for coordinating sessions between all other components, and provides persistence capabilities (eg. the database) for the whole system. It concentrates log files for centralized troubleshooting and analysis, and a SOAP API for administration of the solution.
Application Servers
The end-user applications that are delivered by the EO.workspace platform are hosted in one or more Application Servers (Windows or Linux), which are controlled by the Session Manager.
Web Access
The HTML5 client connects to the Web Client component, which then connects to other EO.workspace components. The HTML5 client is thus pretty simple and lightweight, while the Web Client server does the heavy work. Compared to other clients, the HTML5 client is less integrated with the user environment, due to the restrictions of running in the browser sandbox (for example, it cannot directly access local devices like disk or printers), and uses different mechanisms to work around these restrictions.
HTML5 client
The HTML5 client allows end-users to initiate browser-based client sessions. It provides a JavaScript client (usually referred as HTML5 client), which runs directly on the web browser, having no dependencies on external software. This only requires the use of a modern browser, which supports advanced JavaScript and HTML5 applications.
Native Client
The native client is a standalone application, which is executed directly on the user's computer. This client is available for Microsoft Windows, Linux and Apple OS X systems. The client provides an increased level of integration with the user's computer operating system, allowing the use of features such as desktop integration (the placement of shortcuts to access the delivered applications directly on the user's desktop), seamless application windows and integration with external devices like disks and printers.
100 Users
»

resources

total
18 GHz CPU
60 GiB RAM
600 IOPS
9 Mbps
500 Users
Usual Landscape
»

resources

total
60 GHz CPU
200 GiB RAM
2000 IOPS
30 Mbps
1000 Users
»

resources

total
90 GHz CPU
300 GiB RAM
3000 IOPS
45 Mbps
Sizing based on typical customer landscapes with a mix of 20% light, 70% transactional and 10% power users. The following computational normalization and assumptions where made:
CPU: Intel Skylake server class (total core sum)
IOPS: 20% reads, 80% writes
Mbps: Aggregated end-user bandwidth
The best approach to a custom sizing is a Prof of Concept (PoC) project. Every customer has a different application ecosystem, with specific business cases and end user workload mix. EO.workspace partners can offer integrated PoC projects for:
Application performance profiling
Key technologies and risks validation
Larger roll-out information acquisition
User and management acceptance
Windows Server 2008 R2
Windows Server 2012 R2
Windows Server 2016
Windows Server 2019
Windows 10 ENT Multi-Session
Red Hat Enterprise 7/8
CentOS 7/8
Windows 7/8.1/10
macOS 10.14/10.15/11.0
RHEL/CentOS 7/8
Ubuntu 16.04/18.04
Raspberry 3/4
iOS 11/12/13/14
Android 7/8/9/10/11
HTML5